BedBike for hospital beds
Maintain muscles during bed rest
in hospital or at home
Just the right BedBike / Bed Cycle
to reduce muscle loss
New and effective exercise bike for use in bed helps the patient to stimulate blood circulation and build muscle strength in the body to better cope with a challenging everyday life.
Physical activity has been difficult to accomplish before if health is challenged and you have difficulty standing on your legs. It has now become possible due to the LEMCO bed Bike. The innovative exerciser is available to everyone-also people confined to a hospital bed.
The exerciser is easy to use and works on virtually any bed with a stable foot-end.
If your bed "just" is a box mattress – don't worry.
Contact us so we can show you how we can solve that problem.
When you lie in a hospital bed, patients often lose up to 1.5 kg muscle mass – within the first three days.
When you are at least 80 years old and stay ten days in bed, your body will become approximately 10 years older from a muscular strength viewpoint.
LEMCO BedBike is Defacto Standard at many dialysis clinics in both Denmark and across Europe.
Our bed bike is designed to be a truly unique exercise bike in every aspect:
Ultra easy to pedal
HighQuality Magnetic wear free resistance
High speed flywheel ensures smooth motion
Easy to use for the user 2 seconds introduction is enough
Easy to operate and move for the nurses
Five resistance levels
Attaches firmly on both hospital beds and care beds
Durable-Danish quality – Made in Denmark
Easy to use display with just one button
Backlit Display – easy to read
Light weight, just 9.3 kg
Easy to keep clean – can be disinfected with cloths
Machined Aluminium pedals with soft heel cap to keep feet on pedals
Etc.
It is first when you try the bed bike that you realise within a few seconds how brilliant the bikes is in relation to anything else on the market.
Therefore, everyone that tries the bike keeps it.
No motor required to exercise !
We have invented something better !
Once you have tried a LEMCO BedBike
You will not doubt that this is the right one…
The magnetic Resistance and "BEAT Light Technology"
ensures optimum resistance – silent and
smooth motion.
Already in use with great success in the following areas
carstenlemche
2020-04-29T18:43:11+00:00
Neuro Rehabilitation Our exercisers are suitable for use [...]
carstenlemche
2020-04-12T18:37:07+00:00
How Bed Bike is used in Elderly Care [...]
Try the BedBike
you will love it  !
With a success rate of over 99% you will also experience that you can exercise easily and effortlessly.
Works with almost anybody confined to bed for long / short period.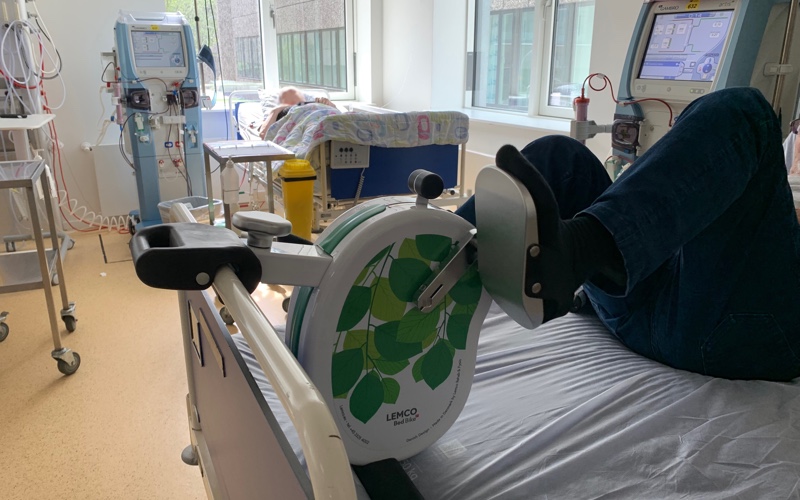 The most effective way to exercise in a hospital bed
Movement is healthy, experience it again!
LEMCO helps people around the world with unique exercise solutions that deliver better quality of life for a group of people in a life phase where everything else is tried with less and less success.
We have long and extensive experience with bed cycles that are used by both hospitals and individuals – During hospitalization mobility is lost and very well-being challenged (also by a few days) -so early bed cycling makes sense for everyone…
Many dialysis patients are predisposed to Restless Legs during and after dialysis. Many of our dialysis patients have reported that those restless legs have diminished/stopped.
The fatigue that often occurs after dialysis has slowed down significantly exercising while in dialysis.
It 's a great Bed-Bike!
Many hospitals around the world are already using the LEMCO BedBike
Our exerciser appeals to a large audience.
Easy to use – no programming needed !
No power required – Just 9.3 kg
Innovative handle – Fits easily on any bed end / Hospital bed!
A great exerciser for bed
Typically used from 2 to 3 hours during each dialysis visit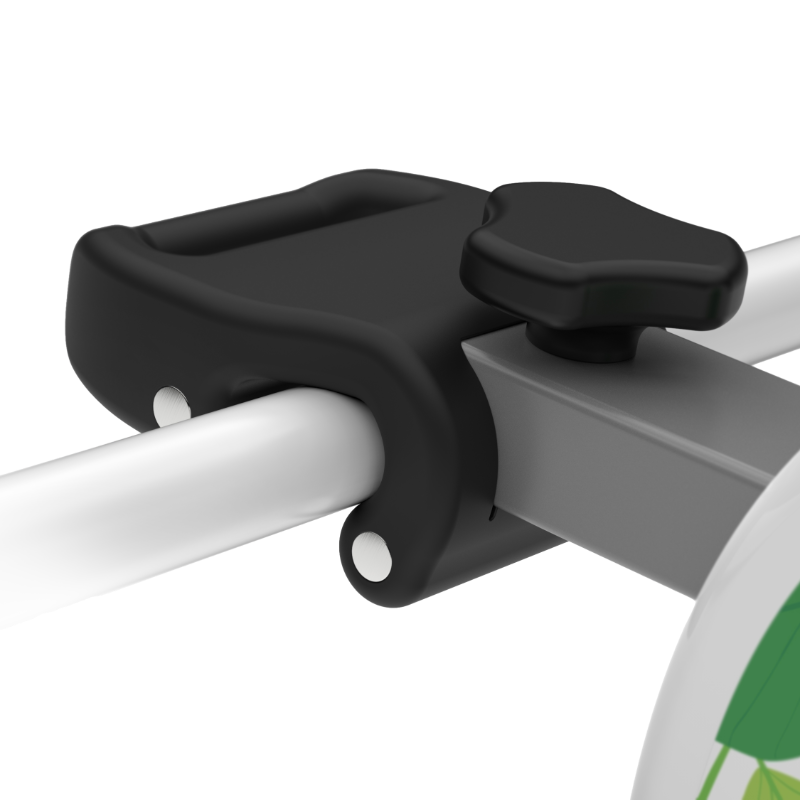 The joy of feeling the blood flow in the legs and that the muscles are
moved again can not be described !
Restless- Legs during dialysis decreases for many users in dialysis!
Higher energy levels at night after dialysis
Wall hanger for the bed bike
We deliver the exerciser to rehabilitation centers and individuals world-wide
Wallhanger for 1 bed bike
The Wall mount for two
Extended indefinitely
Smart operation
The bike is easy to operate both for the user and therapist.
The resistance lever is easily adjusted back and forth by the user or nurse.
The fact that the handle is not a rotary knob facilitates the operation by the user with weak hands.
It is also easy to visualize the resistance level from a distance by e.g. a therapist.
Try our BedBike
You will love it!
Our customers "live up" when they experience that they can exercise more than they thought or had been told they can.
The experience of becoming better day by day motivates a great many.
Accessories for the bed bike
The bike works perfectly for 95% of the users.
Our pedals are really good and the smooth movement is particularly well designed.
The user friendly display is simple and understandable.
No cumbersome wires or buttons.
1.5 Second Learning Curve
We have been working with bed cycles attached to hospital beds for ten years.
We will be happy to help you.
Our bike is durable and proudly designed for many years of daily use.
The exerciser is already in use
Hundreds of customers are already using bed cycling as an exercise to prevent muscle loss in hospital beds. Our newest BedBike is already in use over 40 places in Europe already.
Many years of experience with bed-exercisers have ensured us great expertise in to design and develop this bike for all patients laying in bed for long or short period of time.
Call us for references.
The BedBike is delivered in an especially package developed for safe delivery worldwide
Your physiotheapist/physician can guide you how to exercise with the best results.
The bike is so easy to use than all other bikes. Patients understands hos to use it within seconds. No programming necessary
We will be happy to help you.
Contact us for WorldWide delivery pricing
Order LEMCO Combi Bike Plus for fast delivery